More Ages 2-5 & 5+ Products: |
Click on any image below to view or download larger image.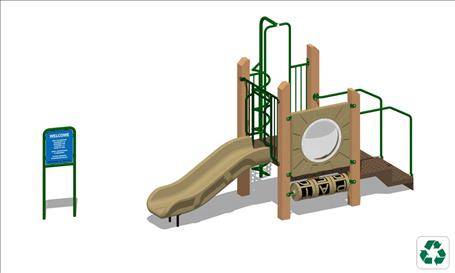 RePlay 4801-RP
Features/Activities:
100% post-consumer extruded high density
polyethylene (H.D.P.E.) plastic timber.

Play Area, Equipment Only:
12' x 8' (3.7m x 2.5m)

Minimum Safe Use Zone:
24' x 20' (7.3m x 6.1m)


4801 Features:
Accessible Transfer Station with 8" (21cm) Riser, Coil Climber, Convex/Flat Mirror Panel,
Spelling Panel, Curved Tot Slide Chute, Welcome/Rules Sign,

Colors Illustrated:
Accessories: Evergreen
Decks: SofDek Plastic-coated
Perforated Steel, Brown
Plastic: Tan
Accessibility Profile:
5 Total Play Components
3 Elevated Play Components
(3 Accessible)
2 Ground Level Play Components
(2 Accessible)
Downloads:
View or Download:
Copyright 2023, Columbia Cascade Company, Camas, WA 98607 U.S.A. All rights reserved.
All original product designs illustrated herein are the intellectual property of Columbia Cascade Company and copyright in the year of their creation.